<!================= Sidebar ========================>
HOME

Introduction
Manga


[new revolution]


[not alone]

Anime
How to Draw...
Image Vault
Guestbook
About

<!================= Main Page ========================>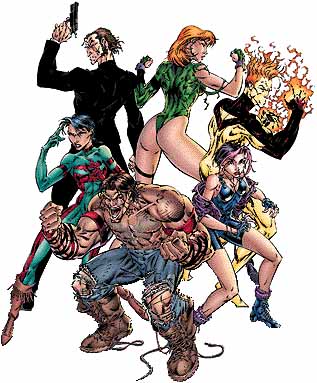 GEN13, left to right; top: Lynch, Fairchild, Burnout; bottom, Rainmaker, Grunge, Freefall;
| | |
| --- | --- |
| Introducing Manga | |
| | [Not Alone] |
| | |
An artist for the title, Gen13, J. Scott Campbell is responsible for one of the newest and hottest comics in the industry. He works for Wildstorm Productions, along with the likes of Brandon Choi and Alex Garner. Wildstorm Productions is owned by former X-Men artist Jim Lee, who - ironically - draws in traditional style.
Although the whole comic is not drawn in full manga style, there is evidence that manga has played a role in developing the visuals of the book. Notice the use of unproportional eyes with the characters - especially with the character Freefall.
| | |
| --- | --- |
| GEN13 | |
| | [What is it all about?] |
| | |

Teenagers. A secret government organization, I/O, with its purpose to maintain the new world order, experimented with DNA mutations.

The result was Gen-Factor, a mutagenic gene which causes the host to gain extraordinary powers. An elite American strike force, Team 7, was unwillingly exposed to Gen-Factor. The team soon disbanded and defected I/O. After experiments with Team 7, I/O learned that Gen-Factor was inheritable and soon captured some of the former Team 7's children. This was an attempt to control humans under Gen-Factor conditions while at a young age. The result was Gen13. However, like Team 7, its members began to question I/O's hidden motives and later escaped from the I/O headquarters.


---
Quick Links
Introduction to Manga
New Revolution page - new views in the American comic industry
Introduction to Anime <!================= Nav Bar ========================>


---
| HOME | INTRO | MANGA | ANIME | HOW TO DRAW... | IMAGE VAULT | GUESTBOOK |
| ABOUT | E-MAIL |