<!================= Sidebar ========================>
HOME

Introduction
Manga


[new revolution]


[not alone]

Anime
How to Draw...
Image Vault
Guestbook
About

<!================= Main Page ========================>

DRAGONBALL's Trunks;
| | |
| --- | --- |
| Introducing Manga | |
| | "American Comics Get a Facelift" |
| | |
Manga is often praised for its art-driven presentation of the story. Often in American comics, words fill the page. Mangas from the Dragonball series by Akira Toriyama, for example, use images to portray much of the feeling and storyline. Notice the abundant use of text in American comics compared to Japanese comics.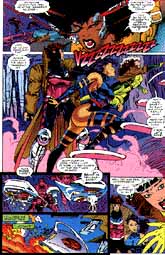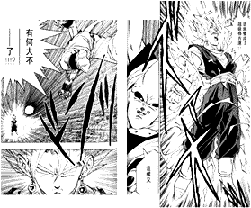 American comic, X-MEN, left; Japanese manga, DRAGONBALL, right;
---
New Revolution
Vast changes have occured in the American comic industry. Many traditional characters and comic book lines, like DC Comic's Superman and Marvel Comic's X-Men, have gone through a series of facelifts involving elements of manga style.
Shift to New Revolution page
---
Not Alone

Joe Madureira is just one of the wave of new artists influenced by manga. Another artist is J. Scott Campbell. As a penciler for Gen13, he is responsible for one of the hottest comics by Wildstorm Productions.
GEN13's Freefall, right;
Shift to Not Alone page


---
Quick Links
New Revolution page - new views in the American comic industry
Not Alone page - new titles by top artists <!================= Nav Bar ========================>


---
| HOME | INTRO | MANGA | ANIME | HOW TO DRAW... | IMAGE VAULT | GUESTBOOK |
| ABOUT | E-MAIL |