<!================= Sidebar ========================>
HOME

Introduction
Manga


[new revolution]


[not alone]

Anime
How to Draw...
Image Vault
Guestbook
About

<!================= Main Page ========================>
| | |
| --- | --- |
| Introducing Manga | |
| | [New Revolution] |
| | |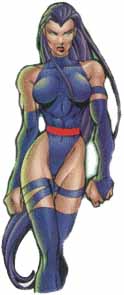 Various artist have begun to embrace the manga-art style. In the American comic, Uncanny X-Men, artist Joe Madureira altered the look of this long running series. Previous artist, Jim Lee used a very traditional American style. This could be seen with the detail in the facial expression and use of hatching and cross hatching. Madureira, on the other hand, seems to be influenced by Japanese comics. Although he does not use every single visual element that defines manga - this, mostly being small noses, large eyes and exaggerated hair - his own style definitely shows visual traces of manga style. Madureira uses lines of various thicknesses instead of shading to show depth. He also exaggerates various body part in comparison with the American style. This forms a very stylized art form for readers to admire.
UNCANNY X-MEN's Psylocke, right;


Below is a comparison look at the visual changes that have occured in the X-Men series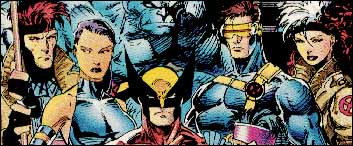 X-MEN by Jim Lee, left to right; Gambit, Psylocke, Beast, Wolverine, Cyclops, Rogue;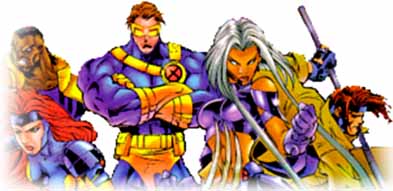 X-MEN by Joe Madureira, left to right; Bishop, Jean Grey, Cyclops, Storm, Gambit;
---
Not Alone

Joe Madureira is just one of the wave of new artists influenced by manga. Another artist is J. Scott Campbell. As a penciler for Gen13, he is responsible for one of the hottest comics by Wildstorm Productions.
GEN13's Fairchild, right;
Shift to Not Alone page


---
Quick Links
Introduction to Manga
Not Alone page - new titles by top artists <!================= Nav Bar ========================>


---
| HOME | INTRO | MANGA | ANIME | HOW TO DRAW... | IMAGE VAULT | GUESTBOOK |
| ABOUT | E-MAIL |