Themebar
The
ultra popular
Internet Explorer skinner, Themebar, lets you change the look of your toolbars background, icons and more! The following are several skins I've made.
If you have any questions skins, make sure you read the
Skins FAQ
.
<!a href="http://www.microgarden.com/themebar"><!img src="main/btnwinamp.gif" style="margin-left: 8px;" width="88" height="31" align="right" border="0" alt="Themebar"><!/a>
Themebar
(freeware) lets you change the look of both Internet Explorer and Windows Explorer. You can change more than 64 toolbar icons, add different toolbar backgrounds or even change the throbber animation. Go to the
Themebar
website for more details!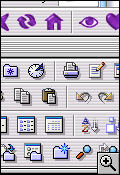 Internet Explorer Macintosh
A collection of MS IE 4.5 Mac and MS IE 5.0 Mac themes, skins, toolbars and animation. Includes Grape, Lime, PowerBook Black and Blueberry flavors.
Preview Skin
Download at Deviant Art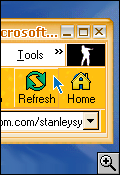 Dance Dance Revolution [XTC]
A bright, high-energy, dynamic theme for your browser to matches my Dance Dance Revolution winamp skin. Includes theme, animation, skin and toolbars.
Preview Skin
<!a href="">Download Unavailable<!/a>
Back to Skins