Compiled by Stanley Sy and Ryan Parks
---

Page 5...
a 50, 000 word novel, by Ernest Wright called Gadsby was written without using the letter "e"

French is used as the international language in postal corporations

rock artist and Grammy winner, Alanis Morisette used to be on a Nickelodeon TV show called "You Can't Do That On Television"

the method of boiling-up animal hides, bones and fish skins produces a home-made glue that can be used in art crafts

the scientific name for the blue whale is Balaenoptera musculus

84.8% of Belgium's total households own an electronic deep fat frier
---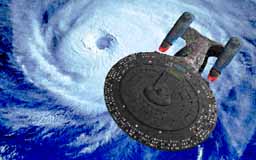 right now, somewhere around the world, an episode of Star Trek is being broadcast on television
---
the indigestion of a whale produces a sweet smelling perfume

On Bended Knee, produced by the R&B group Boyz II Men, is exactly 5 minutes and 29 seconds long

six hundred thousand Hungarians are still on a waiting list to be connected to a telephone line

$100 million is the projected cost to look after NASA's 150 "space" chimpanzees in the manner to which they have become accustomed

YTV has changed to time slot of Sailor Moon from 3:30pm to 4:00pm on weekdays

there is a another hidden song 5 minutes after the pause on the hidden track #13" on Alanis Morrisette's Jagged Little Pill CD

it is guaranteed that a stranger's birthday is within 12 months from yours

Some people believe beans have magical properties

600 000 lego bricks were used to create Lego Land in Denmark

accounting the rotation of the Earth, you are now traveling at 1 670 km per hour

if you try not to blush, you will make your face even redder

in most years, the output of Monopoly money has a face value exceeding that of notes issued by the US treasury

the Tower of Pisa is falling at a rate of 2 millimeters a year

up until the beginning of this century, little boys were once dressed as little girls

the plural form of referendum is referenda

women burn 419 calories per hour when standing

Jon Brower Minnoch from Washington, United States weighs 979 pounds or almost half a ton

there are more than 2000 kinds of tea

a Microsoft DOS manual is 130 pages long

an IBM DOS manual is 448 pages long.

it takes 60 lines of programming to draw Sailor Moon's head in the Turing programming language

an eight ball turned sideways is the INFINITY BALL.

reptiles don't sweat

racecar spelled backwards spells racecar
---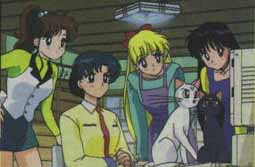 on the Internet, a Sailor Moon World Wide Web page can be found at http://www.engsoc.carleton.ca/~rsavoie/smoon/smoon.shtml
---
drinking Scope mouthwash helps digest food particles in your stomach

a 1 centimeter debris in outer space would go through a space suit and cut it in half.

only 3% of Japanese law students who take the bar exam pass.

the character Psylocke found in X-Men comics is actually from an English background, but was changed to resemble an Asian by the evil Mandarin

the decibel level of Fairview Mall is about 61.38

the olympic commitee is provided 500 basketballs 2500 baseballs and 38 400 tennis ball to the atheletes for the games

an estimated 10 000 tons of trash with be needed to be disposed of during the games.

21 million pounds of ice with be needed to cool drink, atheletes and horses.

toothpaste is made from seaweed

Teenage Mutant Ninja Turtle terms
(as defined by Consumer Guide)

maximum wipe-out: This is how the Turtles would describe a complete defeat of the enemy after an intense ninja face-off. "It's a maximum wipe-out!" they'd cry with excitement. They can also say "totally trashed" or "totally totaled"

ultimo bummer: a situation that is disappointing is a "bummer," but a situation that is extremely unsatisfactory is "ultimo bummer."

Snarf was a little furry red creature in the cartoon, ThunderCats

the average snail goes at a speed of 40 feet per hour, at that rate it would take it 5 and a half days to crawl a mile.

the capital of Togo is Lomé

snakes have no eyelids

in 1893, Whitcomb Judson invented the zipper

Thomas Crapper invented the toilet in 1775
---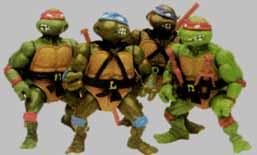 Mighty Morphin Power Rangers and Teenage Mutant Ninja Turtles both have 4 letter acronyms
Mighty Morphin Power Rangers and Teenage Mutant Ninja Turtles both have 25 letters.
Mighty Morphin Power Rangers and Teenage Mutant Ninja Turtles both have the same number of syllables
---
the average Canadian eats 13 kg of ice cream each year

as I'm not the average Canadian, I eat about double that number and still keep my shapely figure (It's a joke) (Well sort of, I do eat that much)

there are more than 2000 kinds of tea

horses sleep standing up

the longest poem was Shah Namah, it had 60,000 verses, 2084 pages, and nine volumes.

pigs don't sweat

people have about 18 billion red blood cell in their body

Michelle Pfeiffer is a Taurus

Michelle Pfeiffer was born on a Tuesday at 8:11 a.m.

using butter instead of margarine in cookies makes them fluffy and soft.
<!P><!BR><!BR> <!A HREF="page2.htm" TARGET="BOTTOM"]Next Page[/A>
---
This page was created on June 19,1996 by Stanley Sy and Ryan Parks
This page was last updated May 22, 1997

URL: http://www.ica.net/pages/stanleysy/useless