<!================= Sidebar ========================>
HOME

Introduction
Manga
Anime


[what's on?]


[cartoons are


for kids]

How to Draw...
Image Vault
Guestbook
About

<!================= Main Page ========================>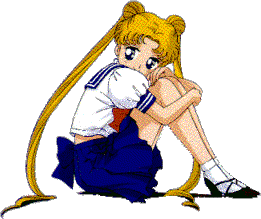 SAILOR MOON's Serena;
| | |
| --- | --- |
| Introducing Anime | |
| | [What's On?] |
| | |
Anime titles have currently been sneaking into the North American market. Some broadcasters have offered dubbed animes like Dragonball and Sailor Moon. Video rentals, from such places as Blockbuster, offer Japanimation like Street Fighter, Akira, Appleseed and Ranma 1/2. Movie critics, Siskel and Ebert, have given the anime, My Neighbour Totoro, good reviews. However, the most interesting review of all is for the anime, Ghost in the Shell, by Masamune Shirow, in which they gave a rating of two thumbs up.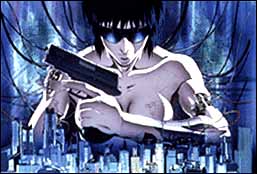 GHOST IN THE SHELL;


"Unusually intelligent and challenging science fiction, aimed at smart audiences" - Roger Ebert, Siskel & Ebert


This anime is billed as the most expensive Japanese animation project of all time. They were amazed not only by the fluid animations but also for its intriguing storyline which dealt with life and what constitutes it.



A great deal of effort is being created by anime followers in North America. Current translations like Dragonball and Sailor Moon are deemed to be poor at the ratings. Broadcasters feel that there is little interest over the Japanimation titles. However those who follow the shows are extremely dedicated to keep it on the air. There are several websites that are currently protesting to the poor time slots and unconfirmed cancellations to their favourite series. These shows are appealing to a neglected market that has a potential commercial reach.

RANMA 1/2, right;
---
Cartoons Are For Kids

Is it too late to avoid the current "cartoonish" trend? Can you name a single animation that did not have a fairy tale ending? Why is there always a score full of singing? Are we to be subjected to watch yet another hero's journey courtesy of Disney next year? Can we possibly stop all this?
DISNEY's Hercules, right;
Shift to Cartoons Are For Kids page


---
Quick Links
Introduction to Anime
Cartoons Are For Kids page - Are we getting spoiled by Disney? <!================= Nav Bar ========================>


---
| HOME | INTRO | MANGA | ANIME | HOW TO DRAW... | IMAGE VAULT | GUESTBOOK |
| ABOUT | E-MAIL |