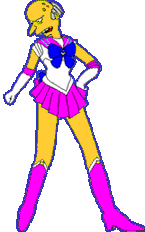 Sailor Burns

Real Name: Montgomery Burns
Nicknames: Monty, Sailor B.
Age: 104
Birthplace: Springfield USA
Planet: Earth
Blood Type: O
School: Crossroads Elementary
Favorite Subject: Business
Favorite Food: Fish
Favorite Quotes:
- "Sailor Scouts are real!"
- "Moon Prism Power!"
- "Smithers! Get me that pink Sailor Scout collar...
the one that matches my eyes"
Other Quotes:
- "That's preposterous. Zutroy here is as American as apple pie."
- "As punishment for you desertion, it's company policy to give
you the plague."