the force | the story | the characters | the guestbook | the author

"In a cyberpunk world filled with ninjas, x-hunters,


and a notorious syndicate, the Dragon Force team must


be willing to put their lives on the line to protect an


already-torn city."



the characters
Forever Changed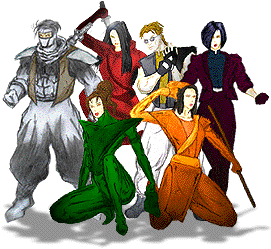 The Dragon Force. The chosen.
Willing to risk their lives to change and protect this city,
Dragon Force consist of an unlikely team of rebels who live in hidding.
Possessing unique powers of non-mutant origins, the Dragon Force team
is known for being able to neutralize most critical situations.
The Dragon Force team follows the way of the warrior, or Bushido.
It is the code of ethics observed by the warrior noblemen, or samurai,
of feudal Japan. Like the rules of chivalry that prevailed in medieval
Europe, Bushido was based on such virtues as rectitude, endurance,
frugality, courage, politeness, veracity, and, especially, loyalty to
ruler and country. While some critics say that Dragon Force is no
better than the masked ninjas they sought after, the team has shown
the essence of a true samurai.


the characters